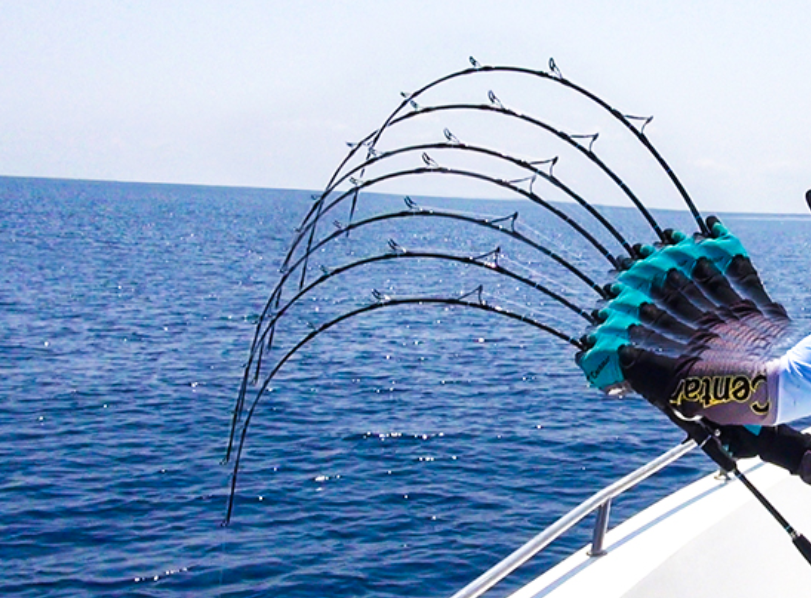 TIPS FOR CHOOSING A FISHING ROD
Choose Your Fishing Rods by Mode and Action.
We already know that there are different types of fishing rods according to the modalities practiced.
But within the same modality, there are rods that have different purposes, depending on the movement we want to give to each type of lure, weight of the lure or according to the depth at which we are going to fish, or type of cast.
We are going to differentiate them according to the modality, type and weight of the lure, and we are going to talk about jigging and spinning rods in a broad and generalist way.
Jigging
We are going to talk about 2 variants, depending on the type of lure and movement to make it effective.
-Jigging or light jigging, are rods with parabolic action and from behind, for a fast or slow movement of the lure. In turn can be trigger for spinning reel or spinning for spool reel row, according to the taste of the fisherman to use one or the other type of reel.
-Slow jigging rods are more of a tip action and from the middle to the front, so that with slowpitch movements the angler can move and shoot the lures characteristic of this modality. The action used is higher than the weight of the lure in order to be able to make the movement correctly.  
Like the jigging reels, and depending on the fisherman's taste, it can be a trigger reel for a spinning reel or a spinning reel for a fixed reel.
 The length is also to the fisherman's taste, with the different brands making somewhat shorter rods for jigging between 1.70 and 1.90 and somewhat longer for slow fishing, usually 1.90 to 2 mtrs.
Spinning
In this modality we will also differentiate several types, according to the weight and type of the lure.
-Rockfishing, ultralight spinning or egging. For lures of scarce grams, both surface and sunken. They are used in freshwater and saltwater.
-Light or medium spinning, for lures of medium size and weight, sinkers, walkers or poppers. They can be either for shore fishing in the sea or in a lake or marsh.
-Heavy spinning, or popping, powerful rods to fight large predators from boat and move surface lures that can weigh up to 100, 120 or 130 grams.
The size of this type of reeds normally ranges between 2.20 and 2.60 mtrs.
How can we prevent our fishing rod from breaking?
Now that you have an idea of the type of rod you need for fishing, you can enter our website WWW.AZTRADING.ES and find your fishing equipment. And now you just need to know how to take care of it and prevent it from breaking.
Do not get into a fight with a huge species if your rod is not capable of pulling it out. Many times rods break because we try to do impossible things with a rod that has not been designed to withstand extreme pressures.
Don't hold back or reel in the line permanently: Some fish you need to work them slowly by releasing line and picking up when they tire, then releasing again if you feel them swimming strongly again. Be careful to keep the rod's flexibility at an angle that is not too tight, and don't lift the tip of the rod too much.
Clean, store and transport with care: Reeds do not always break because of a fight, in many cases reeds break because they are hit or pressed against hard objects.
Good bow and good fishing!
Remember that it is our obligation to fish responsibly.
Don't leave rubbish in the fishing boat or throw it in the water.